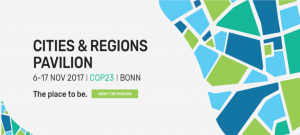 Government and non-government actors gathered with the HRE project on 15 Nobember 2017, 16.30 – 18.00 at the Cities & Regions Pavilion at the COP23 in Bonn, to discuss one of the most efficient, and cost-effective, solutions in reducing emissions and primary energy demand: Heat Synergy Regions.
Central to Heat Synergy Regions are resource-efficient, climate-resilient and low-carbon – district heating and cooling (DHC) systems. By using national and local-scale thermal mapping and modeling, complemented by analyses of energy systems' potential for savings, the feasibility of heating and cooling solutions in general, Heat Synergy Regions can be identified. In order to achieve this, local, sub-national and national governments each have a key role to play, supported by the scientific and industry communities.
Speakers included, among others, Brian Van Mathiesen, Professor, Aalborg University, Coordinator of HRE4 and Paul Voss, Managing Director, EuroHeat & Power, HRE4 partner.