Session"Modelling for Cities"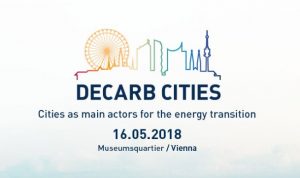 Cities have a pivotal role to the delivery of short, medium and long-term climate strategies, as they are responsible for a high share of energy consumption and provide many opportunities for more efficient supply and use of energy.
For this reason EHPA, HRE Partner, has decided to look at the challenges faced by cities during their process of decarbonisation and the available solutions. The second session of the DecarbCities Forum, on Wednesday 16 May 2018 at the Museumsquartier in Vienna, Austria, focused on the local energy challenges from a planning perspective:
– How can the quest for zero emission cities be modelled and which tools are available to achieve full decarbonisation at local level?
City planners and researchers presented what is feasible and elaborate on tools they have at their disposal. Speakers included: Martin Jakob, TEP Energy GmbH, HRE partner. During the day, the audience also had the possibility to interact with the Peta4.2 at the HRE4 project corner. To have more information please have a look at the programme.