Heat Roadmap Europe 4 workshop, which took place during the EHPA DecarbHeat Forum, on 11-12 May 2017 in Brussels at the BEL.
The session, titled "DecarbCities: addressing the renovation challenge" (11 May, 14.00 – 15.30)  addressed solutions for turning cities into sustainable living areas using a combination of building renovations, best available heating and cooling technologies and low carbon energy sources.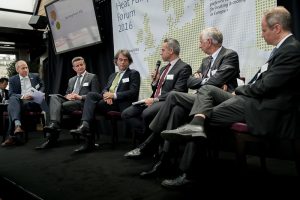 As one of the keynote speakers, HRE project leader Professor Brian Vad Mathiesen highlighted the importance of energy planning for connecting electric and thermal infrastructures and using energy most efficiently in future cities. Session speakers, joined by project partner ICLEI Europe, sat on a panel to discuss the best way to help local authorities making informed decisions on how to exploit the available heat sources and reduce carbon emissions and energy consumption in their cities.
DecarbHeat 2017 collected ideas from energy stakeholders on the next steps towards the vision of a 100% decarbonised heating and cooling sector by 2050 (80% by 2040). The conference addressed the future of heating and cooling policy and will explore scientists and policy makers' visions for a 2050 energy system, including what cities can do to help, the effects of digitalisation on the heating and cooling industry, and perspectives from the industrial sector. The Heat Pump City of the Year Award was awarded at the event.
For more information about the session, please click here.